The new GroupTalk PC Dispatch is a major leap forward in terms of user interface, flexibility and features.
Watch our new GroupTalk PC Dispatch version 2 video below and see how it works in action!
You will immediately notice the flexible layout of the new Dispatcher, where panels can be added, moved, resized, named and customized according to your workflow. There are panels for PTT Groups, Contacts, Tickets and Locations. See illustration above.
Groups Panel
You can have different panels for PTT Groups, displaying a filtered selection of groups, favorite groups or all groups. Broadcast mode to send into multiple groups simultaneously is supported. You can customize the Groups panels as you like depending on your workflow, you can also name the Groups panels according to your preferences.
Locations Panel
The Locations panel is used to display the location of users in selected PTT groups or specific users. The map has three different views: Standard, Satellite and an Alternative view. The Locations panel creates the opportunity for fast, safe and efficient work when assisting colleagues in vulnerable situations, making PTT calls or real-time positioning during panic alarms or assistance requests from users.
Tickets Panel
The Tickets panel is a queue management system for assistance requests and panic (emergency) alarms from users. Tickets are typically used to request contact from the Dispatch or to inform the Dispatch that a user is free for a new task. An operator can in a single click pick a ticket and be ready to initiate a PTT call. For exposed and dangerous situations, we have the feature Listen In, which means that the dispatcher can automatically hear through monitoring what is happening on site and can, based on the situation, call for reinforcements.
Contacts Panel
The Contacts panel is a list of users which the dispatcher has access to. In the Contacts panel you can see if users are online, view your favorite contacts and easily initiate private PTT calls or text messaging. Users can set their Status and use Callsigns to facilitate the communication. The status of a mobile user can be changed both by dispatchers and the mobile user himself.
Better communication for for businesses with PC Dispach version 2
Following is a list of some of the new / improved features:
Replay messages & view previous speaker
The last incoming group and private call messages are now available per PTT Group. Press the corresponding repeat icon to replay the message.

The current speaker and last speaker are now displayed in the top bar of the Dispatcher, together with PTT group name, user name and the time that has passed since the message.

All last messages are removed from the Dispatcher, when going offline or closing the Dispatcher browser tab. When going online again there are no last messages saved from before.
Queueing system, queue status & queue notification
Ticket status is displayed in the top bar, including number of unpicked tickets and tickets picked.

New setting to automatically join PTT group when picking ticket.

Prompts a warning when selecting to go offline if having a picked ticket.
Nine new notification sounds to choose from for incoming tickets.
Dispatcher user interface now remembers the layout for where to open new ticket panels when going offline and online.
Queue group filtering is now easier to configure with search and organization filters.
Text messages as a complement to voice messages
In some situations a text message is needed to complement voice messages. For example, if a mobile user has to report a finding and can not be revealed through his voice. Text messaging is a feature in GroupTalk that can be added to PTT Groups as well as to private calls. This feature allows PC Dispatch users as well as mobile users on Android and iOS to communicate with each other using text. Messaging can be restricted so that a Dispatcher needs to initiate the messaging in a private call. PTT Groups can be set to "listen only" so that only Dispatchers can post messages and the mobile users can only read and not respond (convenient for groups with a large number of users).
HID compatible accessories for GroupTalk Dispatch version 2
The Dispatcher supports USB accessories with multiple buttons. The external physical buttons can be configured to activate PTT in different groups, pick a ticket, etc.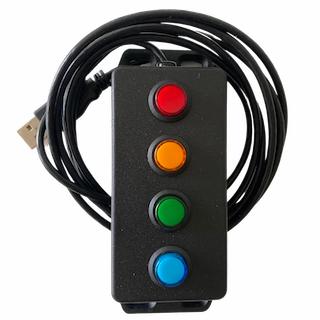 Watch the video below and learn how to use a USB desktop microphone with GroupTalk PC dispatch.